Testimonials:
Thank you for the lovely poetry ebook. The words in your book were full ofcomfort and compassion and I found many beautiful poems amongst your
collection.
Your tips and the advice you give in the book are
very helpful and
will be invaluable to anyone who is dealing with a bereavement.
-Suzanne Morrison
Scotland, UK
"A wonderful source of inspiration and support. Always handy".
-K Munro
New Zealand
"Your poetry package was wonderful. We used many of the poems and verses for my Mom's eulogy. I recommend your website to anyone who loses someone they love. The poetry package was helpful and comforting. I read through the poems a lot and they do bring so much comfort to help with the lonely days that are now happening. We are so busy when we lose someone with making the arrangements and then attending the wakes or funerals. One of the hardest parts is that after all is over, you finally have to accept and deal with your loss. I read the poems whenever I get depressed and emotional. I will never part with the poems. Thank you so much".
-Kathy M
US
"The poems made me cry but they helped a lot."
-Cathy Hough
Canada
Book of Inspirational Quotes

Please accept our gift to you!

A book of 111 inspirational quotes.
Something to lift your spirits and improve your day.
Discover How to Commemorate your Mom in a Moving Tribute with the Perfect Funeral Poem.
Soothing Words of Peace and Grace, will Uplift Those Left Behind…….
Endlessly searching for hours and hours for that perfect funeral poem, prayer or eulogy quote for your Mom or Grandmother, is probably one of the most difficult things to do and difficult times to do it in.

And if you're short of time, low in spirits and under pressure, it's darn near impossible.
If you're finding it difficult, you are not alone…….
Hi my name is Andrea,
If you are looking for soothing words of grace for your Mother, Mom or Grandmother you've come to the right place.
Years ago, I was also searching for the perfect funeral poem for a much loved family member. Sadly in the short time I had, I just couldn't find what I needed. Because of this, I lost the opportunity to farewell them in the way I wanted. Even after all this time, it is still something I regret.
Since then, I have taken a special interest in funeral poetry and have carefully researched and reviewed hundreds and hundreds of eulogy, sympathy and funeral poems.
As a result of this research, I've put together a heartfelt and beautiful selection of
25 Funeral and Eulogy Poems for Mothers.
Within this specific collection you will find many heartfelt and soothing words of grace to comfort, mourn and console.
This specific collection of 25 Funeral and Eulogy Poems for Mothers, quite simply contains the best funeral poems for mothers.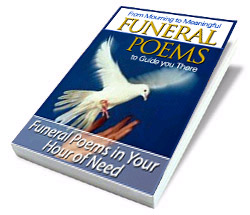 Yes I want to order now!

Not only can many of these poems be adapted or read as is by different family members at your Mother's or Grandmother's funeral, but they can be included as part of a memorial service handout or used later for your funeral thank you cards.
Within the collection there is funeral poetry as uplifting and as beautiful as this one read at the Queen Mother's Funeral.………
She is Gone
You can shed tears that she is gone
Or you can smile because she has lived.
You can close your eyes and pray that she will come back
Or you can open your eyes and see all that she has left.

Your heart can be empty because you can't see her
Or you can be full of the love that you shared.
You can turn your back on tomorrow and live yesterday
Or you can be happy for tomorrow because of yesterday.
You can remember her and only that she is gone
Or you can cherish her memory and let it live on.
You can cry and close your mind, be empty and turn your back,
Or you can do what she would want:
smile, open your eyes,
love and go on.

David Harkins
Within our "25 Funeral Poems for Mothers" collection, this is what you get:

7 Funeral Poems lovingly written for Mothers.

10 Poems in Celebration of Mothers.

3 Remembrance Poems for Grandmothers.

5 Poems remembering a loved one if they passed away after a long illness.

in addition you will receive, 3 short stories and 4 quotes about Mothers, a special poem about a Mother in Law and a
Heartfelt and moving eulogy for a Mother!
You get several times your money's worth!
Some websites are selling a collection of three poems for $10.25. Our collection has 8 times as many poems plus a eulogy example but certainly isn't 8 times the price. (That would be $82!)
If you respond right away, you pay not $35.00 or $29.95
but for a limited time until the end of the month – the special low price of $10.25!
Buy now!

To receive this selection, you can simply pay online via our secure server, to have the EBook in your hands within minutes.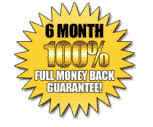 Your satisfaction is assured through our no risk, you-can't-lose, 100% money back guarantee. If for any reason, you aren't thrilled and satisfied with my product, just contact me (or send the product back) within 6 months and we'll refund 100% of your purchase price. No hard feelings.
The funeral poem collection is contained within an electronic eBook, perfect for those planning a funeral service, or for a commemoration of your loved one.
Here's how to order right now!
Ebook – "Funeral and Remembrance Poems in Celebration of Mothers and Grandmothers".
Click here to buy!

Kindest and heartfelt regards,

PS. If you are looking for a much larger collection, with super bonuses, our EBook containing 84 Funeral Poems may be what you are looking for.